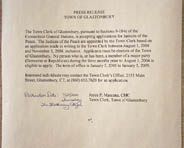 On Tuesday December 28, 2004 Dr. Srinivasan took the oath of office to become a Connecticut Justice of the Peace. As a JP Dr. Srinivasan can now perform legally recognized wedding ceremonies. Town Clerk Joyce Mascena administered the oath at Glastonbury Town Hall. On hand to witness the ceremony were Sheenu's wife Kamla and his daughter Asha.
The Certificate of Qualification was renewed on January 5, 2009 and has since been renewed twice and is currently in effect until January 4, 2021.
Click on the image at left to read the official press release, or the images below to see the ceremony.