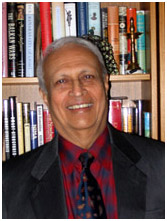 Welcome to my web site! I am an engineer by training. My professional career has focused on turbomachinery (especially jet engines) and smart structures. I also have deep interests in politics and religion. In 1979 I helped found the Connecticut Valley Hindu Temple Society, in Middletown, Connecticut. I was elected to two terms on the Glastonbury, Connecticut town council. Please explore the links on the left to read my many papers and articles on these subjects.
In July 2008 I was appointed to serve on the board of directors of Connecticut Innovations, a quasi-public authority, by Governor M. Jodi Rell. Also I served as Honorary Chair for that year's One Book program of Hartford Public Library.
History was made on May 29, 2007 when I was invited by my good friend Senator Gary Lebeau to offer a Hindu prayer before beginning the deliberations of the Senate that day.  You may watch the prayer by clicking here http://youtu.be/b8L1kJT9xZU
The highlight of 2011 was the publication of my book HINDUISM for Dummies by Wiley Publishers. Please visit my Author Page on Amazon at amazon.com/author/a.v.srinivasan and read the many great reviews the book has received.
My 2015 publication The Bhagavad Gita: A Thread through the Eighteen Gems: A Re-reading has  received great reviews some of which are shown below. The Foreword is written by Swami Tyagananda, head of the Ramakrishna Math at Boston and Hindu Chaplain at Harvard University.

" This is a brilliant book that I recommend wholeheartedly" – Professor Subhash Kak
"… Srinivasan's commentary is itself a gem." Professor Jeff Long
This book is now available as an ebook also.